ORAS FALLS | AN ESCAPE FROM TABACO CITY
GUIDE TO ORAS FALLS
Nature's Calling
Where do you go if you want to get away from the city?
Personally I head off to climb a Mountain or Chase a Waterfall.
The hike, the scenery, the sound of rushing water and eventually the anticipation of the arrival.
The Trail to Oras Falls
I never knew that the Municipality of Tabaco had its own Waterfall until I was invited to join the week long Tabak Festival celebrations in the city. Tabaco is one place that you find it difficult to associate with Nature as its main industry has been with steel, and the making of hardware such as Tabaks (a machete type of tool), Scissors, Hand Scythes and such like.
To find out more about Tabaco's Local Industries, visit the upper floor of Tabaco Mall and wander around the Local Craft section to see a vast array of products produced locally.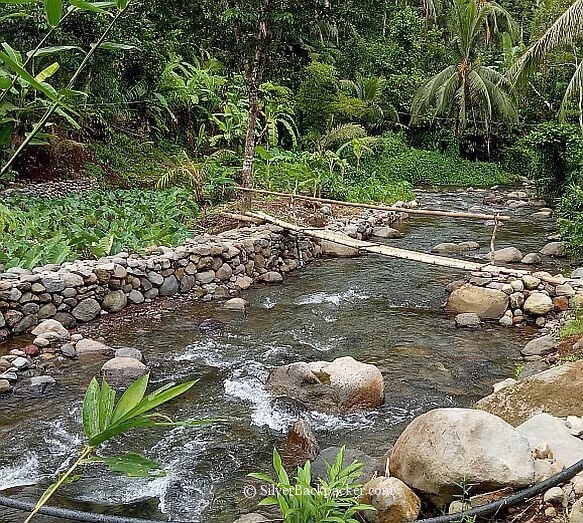 Oras Falls – Along the Trail
Follow the River
Leaving the hustle and bustle of the city behind, we set off for our escape to nature. A short hike through the Barangay from the jump off point and we are already surrounded by Nature.
The river is a watershed of a valley between the Mayon and Masaraga Volcanoes. Coconut palms line the riverside trail. Birds are singing from the branches of the hundreds of Pili trees. Local teenagers know the best spots to bathe along the way.
Now we are heading upstream to Oras Falls passing mini falls and cascades along the way.
Oras Falls – First Sighting
A River Crossing
Be prepared to get wet if you fall in. How good is your balance? 
Rock hopping is an aquired skill that needs to be mastered, unless like me you are not worried about slipping. Its all part of the fun of hiking.
The trail has led us to this point where we need to bridge the river. Luckily it's only a short easy crossing. Once over we are rewarded with our first sighting of the magnificent Oras Falls.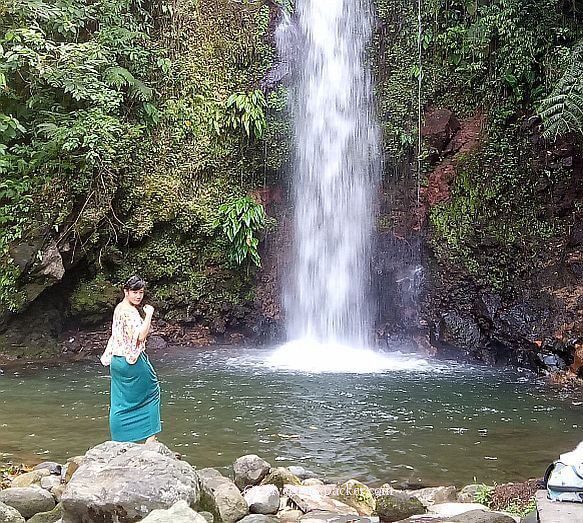 Oras Falls – Cool, Clear Water
You Are Invited
Now that we have arrived, its time to really get wet. The pool is safe for swimming and once underneath the cascade of falling water, you can enjoy an excellent massage courtesy of Mother Nature.
Plunge into the pool, climb the rocky side for an elevated view, enjoy a picnic but please remember to leave nature clean and take home your trash.
#LeaveNoTrace
You are invited to come and enjoy Oras Falls. Tabaco's One and Only Falls.
Tricycle Ride to Oras Falls
Oras Falls Falling Cascade
The Art of Nature Outside of the City
ORAS FALLS, TABACO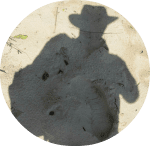 Essential Travel Guides
Oras Falls, Tabaco,
Albay,
Philippines
How to Get to Tabaco, Albay
By Air 
Cebu Pacific and Philippine Airlines have regular daily flights from Manila to Legazpi. Cebu Pacific also flies between Cebu and Legazpi daily.
From Legazpi you will need to take a tricycle or taxi from the airport to the Central Bus Terminal where there are frequent bus and Van services to Tabaco.
If you know the dates you are travelling to Bicol keep an eye open for online promo fares from Cebu Pacific. Sign up for their Promo Alerts.
By Bus from Manila
There are many bus companies leaving Cubao, Edsa, and Pasay for Legazpi and Tabaco. (Cagsawa, Amihad, Alps, Penafranca ) Travel time is between 10 to 12 hours.Its best to take an overnight bus as these are direct trips.
Buses leaving Manila during daylight hours can take up to 18 hours.
Current Fares start at P850 for a regular aircon bus. Make sure to take warm clothing or a blanket as it can get pretty cold.
Getting to Oras Falls
From the tricycle terminal infront of Tabaco Mall, take a tricycle going to Barangay Oras. If you have time to wait for the tricycle to fill up the fare is P20.
If you are short on time you may hire the whole tricycle, in which case you will pay P100 to P120 for a "Special"
Journey time from Tabaco to Brgy.Oras Bridge is around 30 minutes
Alight from the tricycle after it crosses the bridge at the entrance to Brgy.Oras. To reach Oras Falls take the left hand road uphill and hike at first following the road till it ends, and then turn left at the river and hike along the riverbank trail till you arrive at Oras Falls.
The hike from the junction to Oras Falls is around 20 to 30 minutes.
There is one river crossing to make along the way, so be prepared.
To return to Tabaco from Oras Falls, just retrace your steps back to the bridge where tricycles are always waiting.
By Jeepney
You may also take a Ligao bound Jeepney from infront of Tabaco Mall and alight at Brgy.Oras crossing. From there you will need to take a tricycle to the Brgy. Oras Bridge. Fare is P10