Abra | How to Plan Your Trip
Discover Abra
How to Plan Your Trip to Abra
Abra is an Adventure, Not a Commute
How to Plan your Trip to Abra
The DIY Scenario
So you have seen those fabulous,enticing photos on your friends Facebook feed, or on the Abramazing Tours page, you tag your friends "Tara na" , pack your backpack, and meet up at the Dominion Bus Terminal in Cubao. You are all excited to explore the infamous Province of Abra, way, way up north.
On the bus journey you make your plans on where to visit – "Lets go to Kaparkan Falls, Basakal Falls, and Kili Falls"
Everyone agrees, so you all settle down, sleep and wait for the arrival in Bangued 8 hours later. 
Around 05.00 in the morning you arrive in Bangued. Now what??  You all look at each other. Where to first? 
You only have the weekend and need to be back in the Metro on Sunday night, ready for yet another week confined to a cubicle. You want to pack as much in to the day and a half as you possibly can.
And that is where your problems begin. No reservations have been made for accommodation, no homework on how to plan your trip to Abra and travel to your chosen destinations has been done. You now head to Chow King or McDonalds and begin your research.
Abra is fast becoming one of the popular tourist destinations in the North of the country, but the Province is still in its tourism teething stages Not all roads are paved, and unless you know what, how and where you are doing or going, it will be difficult for any DIY group to travel around without preplanned advice and/or arrangements.
In this post I will try to answer all your concerns on the best way How to plan your trip to Abra.
How to plan your trip to Abra
Understanding the Geography of Abra
Take a relief map of Abra and study it. You will notice that there are many rivers all over the Province. All of these rivers eventually join the Abra River as it winds its way through the province on its way to the sea.
A lack of bridges over these wide (sometimes over one kilometre wide) flood plains makes travel around Abra very difficult and time consuming. In many places a river crossing is done by either a bamboo raft or a ferry which can only carry one vehicle at a time.
This is the reason, how to plan your trip to Abra, is very important.
Think of Abra as an Octopus, with Bangued as the head and the tentacles as the roads. The gap between the tentacles are rivers. So to move from one tentacle to another you must pass through the head.
This is exactly what happens in Abra and why it can take a long time to travel between municipalities. All transport routes begin from Bangued. 
Many of the more popular spots in Abra require long jeepney rides to get to. If you have your own vehicle (4x4) or an off road bike, it will save you time.
Travel to Upper Tineg can only be done with off road dirt bikes or the customised jeepneys. There are only two Jeepneys in Abra (as far as i know) that can go where no other Jeepney can go.(D'Mountaineer and Highland). These jeepneys carry heavy duty chains to wrap round the tyres to help with traction whilst driving through the deep mud on certain sections of road. They are also fitted with winches.
Malibcong, Lacub, and Lower Tineg still have unpaved roads in some parts which increases travel time.
If you're just going to stay around Bangued and the nearby municipalities,and you know where and what you want to see and visit, you can negotiate with a tricycle driver to take you around.
Silverbackpacker's recommended Tricycle Driver/ Tourist Guide is Jazz Brioso – Mobile 09975819124
It's best to coordinate with the Tourism Office of Cong.JB Bernos at the DPWH Compound, Zone 7 in Bangued before your visit.(see contact details below). They are there to help and advise you. They are the experts who know every nook and cranny of Abra.
Abra is still a raw, wild and beautiful province.  There are many places still to discover and many that are already making their way onto the mainstream tourism lists. Don't miss out and be sure to visit Abra soon. There is something for everyone in Abra.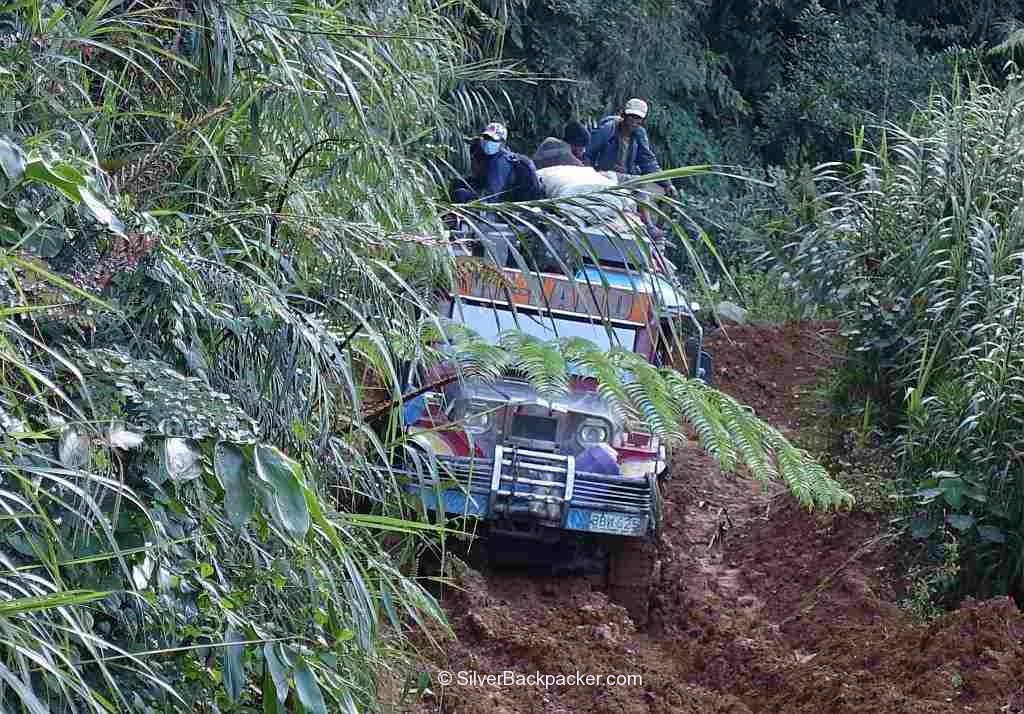 Tricycles are the main means of transportation within Bangued. The minimum fare is P10.00.
Going to other municipalities listed below requires taking a jeepney. The Terminals of the jeepneys are scattered around Bangued. There is no Central Terminal for buses and jeepneys in Bangued.
Any tricycle driver will know which terminal to take you to.
The far flung Municipalities have only one trip per day, but the ones closer to Bangued go by the hour or when full.
Depending on the size of your group, you could also hire a jeepney for the day. Please contact  George Lalin ( Tourism Consultant to the Congressman) or Abramazing Tours for details of prices. Contact details below. 
How to plan your trip to Abra – Estimated Travel Times
Travel by Daily Jeepney
Bangued to Tubo / Kili Falls –  4 to 5 hours
Bangued to Luba – 3 hours for Boni Falls, Banao Lake (2 hour hike)
Bangued to Daguioman – 4 hours plus another hour hike to Basakal Falls
Bangued to Boliney – 3 hours for Bani Hotsprings
Bangued to Lacub – 4 hours 
Bangued to Langiden – 3 hours (for Mt. Bullagao)
Bangued to Malibcong – 5 hours plus one hour hike to Kinaud Rock Formations
Bangued to Agsimao, Tineg – 8 hours (Three times a week)
Travel by scheduled hourly Jeepney 
Bangued to La Paz, Lagayan
Bangued to Tayum, Dolores, San Juan 
Bangued to Tayum, Lagangilang
Bangued to Penarrubia, Bucay, Manabo
Bangued to Sta.Maria (Ilocos Sur) via Pidigan, Suyo, San Quintin junctions.
Travel by Organised Special Trip Only
Bangued to Kaparkan Falls – 4 hours (August to October)
Bangued to Alaoa – 3 to 4 hours plus another one hour hike to Piwek Rock Formations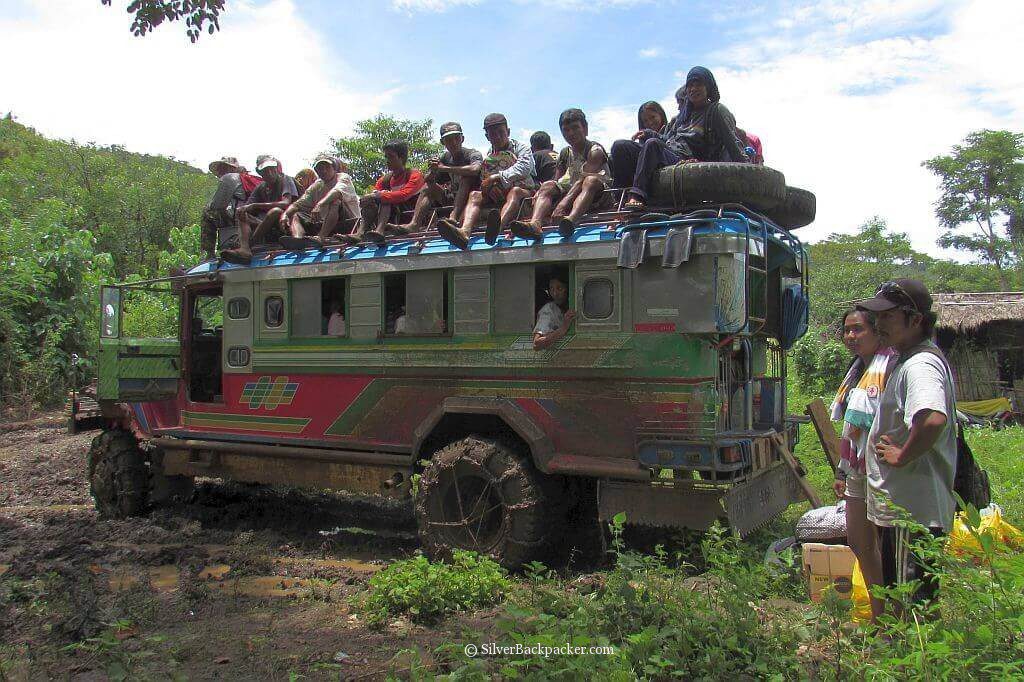 Where to Stay in Abra
Bangued has a nice selection of affordable places to stay, but as it's only a small provincial town the number of beds are limited. When you plan your trip to Abra it is very advisable to book your accommodation ahead.
Hollanda Residencia, Calaba
A popular Homestay in Bangued is Hollanda Residencia
Located about 2 km away from Bangued Plaza, in Calaba, a short walk from the famous bridge. Hollanda Residencia has comfortable air con rooms with CR, an open veranda, a place for hang out and sing karaoke in the evening is also available. 
Phone 0955 497 6561 for reservations or contact their Hollanda Residencia Facebook Page
Escala Homestay, La Paz
Escala Homestay is THE place to stay if you like to stay out of town, be by yourself and enjoy good views over the Abra River Valley. You will need your own transport to reach here or take a tricycle ride from town. Read my Review Here
Phone Amarte on 0917 562 5642 for reservations or contact their Escala Homestay Facebook Page
Other places to stay in Bangued
Abrassi Hotel – Tayum (click link for the latest room rates)
Origines Hotel – Calaba
Lucky's Hotel – Near Plaza
Adtempo Hotel – Zone 5
Oval Era Hotel – Zone 5
If you are unsure or need advice on Accommodation please contact AbraMazing Tours
Where to Eat in Abra
One of the most popular dishes in the province is Abra Miki, which is an orange coloured noodle soup made with miki noodles cooked in a pork broth. It comes served with a hard boiled egg, bit of pork and crispy chicharon. Read my post Where to Eat Pancit Miki to find out more.
Other Restaurants in and around Bangued you may like to try
Rooftop Grill & Chill  in Zone 5, half way up the hill to Victoria Park is an excellent choice for an evening meal
Kubo Ni Zek,  Poblacion, Bucay serves good affordable food 
If you fancy a pizza then Noah J's Pizzeria, just down from McDonalds has been recommended to me
For quick budget friendly snacks such as Pancit Canton, Arozcaldo, and various Sandwiches make your way to the Green Valley Bakery on Mckinley Street, Bangued
Maria's Kitchen – Calaba,(opposite the Hospital) serve freshly cooked budget Silog Meals and a selection of other foods. Find them on Facebook Maria's Kitchen
Calaba Fiesta Restaurant – near the Calaba Bridge has a good selection of dishes on its menu
And of course the usual fast food joints such as Mc Donald's, Jollibee, Chowking, and Mang Inasal can be found around the Plaza.
In the Central Market is a row of Carinderia Eateries serving the usual local and filipino dishes. The market is also the place to buy any supplies you may need for your trip.
How to Travel to Abra
How to travel to Abra from Manila
By Bus
From Metro Manila, there are three bus companies operating along the Manila to Bangued route.




Partas Bus Company, Viron Transit and Dominion Bus Lines.

Journey time is around 10 hours

Fare at time of writing is P600 to P750
Bus Companies that link Bangued with other destinations are 
Bangued to Manila, Baguio – Partas Bus Company
Bangued to Manila, Baguio – Dominion Bus Lines
Bangued to Manila, Baguio – Philippine Rabbit
Bangued to Baguio – Sambrano Bus Lines
Bangued to Manila – Viron Transit
Bangued to Vigan, Tuguegarao – Esonice Bus Lines
Bangued to Baguio, Vigan, Laoag – BBL Transit
By Car or Motorbike
Bangued is just over 400 kilometers from Kilometer Zero and is an 8 to 9 hour drive via NLEX, SCTEX, TPLEX and the Manila North Road.
Turn right four kilometers after Narvacan  in Ilocos Sur. Follow this road to the Tangadan Welcome Tunnel, which is the Gateway to Abra.
Just before the tunnel is the new Pasalubong Centre where you can take a break, rest up,and refresh yourself with a cup of brewed Abra Coffee.
Continue through the tunnel, passing by the towns of San Quintin and Pidigan to Bangued.
For bikers there are a couple of other entry points to the Province. The Abra-Kalinga Road which passes through the town of Malibcong, Abra from Balbalan, Kalinga and the Abra – Ilocos Norte Road  from Nueva Era, Ilocos Norte to Danglas, Abra.
These roads at time of this post are only advisable for two wheeled vehicles. There is not much traffic and no Public transport along these routes yet. 
By Air
There are no airports in Abra. The closest airport is Laoag, three hours away by car.
Cebu Pacific and Philippine Airlines have daily flights to Laoag.

From Laoag take a bus to Vigan and change there for a bus to Bangued 

Or take any bus that is heading south and alight at Narvacan for bus and jeepney connections to Bangued. Tell the conductor you are travelling to Bangued / Abra.
Useful Contact Numbers and Links
Dyane of Abramazing Tours  09277725856
( Abramazing Tours, a registered travel agency under DTI Certificate # 05184651 with office address at Poblacion, La Paz, Abra)
Jazz Brioso  – Tricycle Driver/ Tourist Guide – 09975819124
Contact links with Facebook
Abramazing Tours
George Lalin – Tourism Consultant to the Congressman JB Bernos
Jun Rosales  –  Abramazing Tours
Dyane Molina – Abramazing Tours Coordinator
How to Plan your trip to Abra | Suggested Reading
Travel Blogger Edmar Guquib's post  ABRA: 137 Attractions and Must-See Destinations 
Check Out My #Abramazing Adventures
Follow where I go and create your own Abra adventures. Let me know where you went so I can follow your adventures too.
It's fantastic when we get to experience mutual destinations in the Province of Abra the way we want them to be!
Just remember that Abra is an Adventure, Not a Commute
Keep up to Date and LIKE my Facebook Fan page – Silverbackpacker
PIN to Read Later and Share