With TBEX Manila 2016 just months away I am starting a new series of posts showcasing different areas of the Philippines as seen through the eyes of Instagrammers. There are many Instagrammers out there who are taking good photos but never get the recognition for them. Very few are bloggers. Please feel free to "LIKE" any photo and explore their albums and also Follow them.
The Philippines has so much to offer anyone who makes the effort to get there, whether they are Backpackers or Tourists. The 7107 Islands of the Philippines have everything to satisfy the wanderlust of any traveller. Mountains, Waterfalls, Historical Buildings and Churches, White and Black Sand Beaches, Secret Coves……………….. You name it….the Philippines has probably got it. So whether you are attending TBEX Manila 2016 or just planning a vacation lets get started and show you whats on offer.
The first post in this series is The Mayon Volcano. I have scoured relevant hashtags and found 21 Instagram photos of Mayon Volcano that caught my eye for you to enjoy.
You can read more about the Mayon Volcano HERE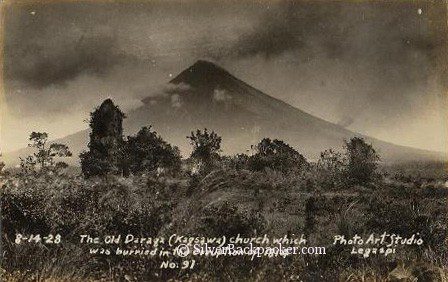 #mayon #mayonvolcano #legazpi #legaspi #itsmorefuninthephilippines #philippines #sunrise #amazingphilippines #the_ph #ilovephilippines #volcano A photo posted by Ju Lia (@lap.a) on
Nuestra Senora de la Porteria Parish Church (Our Lady of the Gate Parish Church), is a Roman Catholic church in the municipality of Daraga, Albay PH. It was built by the Franciscans in 1772. Heavily damaged in 1814 when Mayon Volcano erupted, and was destroyed by American bombers during World War II. The National Historical Commission of the PH unveiled church's historical marker on 2008, and still undergoing preservation and rehabilitation measures to prevent deterioration. ⛪️?☀️#MayonVolcano #DaragaChurch #Legazpi #Albay #Philippines #asia #historical #church #catholic #travel #travelgram #travelling #beautiful #amazingview #vsco #vscocam
How to Get to Mayon Volcano
By Air Philippine Airlines, Cebu Pacific and Airphil Express have daily flights from Manila to Legazpi . It is approximately a one hour flight.  Cebu Pacific and Airphil Express also fly to Legazpi from Cebu
By Bus There are regular buses from Metro Manila going to  Legazpi.. These include Philtranco, Superlines, Cagsawa Tours, Amihan, Isarog Line, St.Jude Transit and Goldline Tours. Travel time is 9 to 10 hours with a couple of rest stops along the way  
Photo Credits
All photos are the property of their owners. Kindly route your queries about any photo to the owner of the relevant Instagram account.
Mayon Volcano Further Reading
Motorcycling from Naga to Mayon
Mayon Volcano Overload: Ligñon Hill, Daraga Church and Cagsawa Ruins