Review | Hull & Stern Adventure Bag
Hull and Stern Dry Bags to keep your valuables safe and dry
 Hull & Stern Adventure Bag – A Review
Wherever there is water you need a Dry Bag. A dry bag, if used properly, will protect your valuable gadgets from water damage and free your mind from worry, allowing you to enjoy your adventure.
Water has a way of finding its way into anywhere if given a chance, and we as adventurers need to minimize those chances as much as possible. Of course there are the simple, basic plastic bags which you could use and are readily available in most places. But these tend to get torn quite easily and you will need a few layers to provide anything other than basic protection.
Plastic bags are also not environmentally friendly these days.
What is needed is a reusable waterproof bag that can be carried easily, is durable, and spacious enough to hold our gadgets, whilst providing easy access to them.
Now that the rainy season is upon us here in the Philippines for the next few months, a dry bag is a "Must Have" item. With their various attractive designs and uses, they have become quite fashionable to even carry around town, especially during the rainy season.
Hull & Stern, a reputable Philippine Outdoor and Sporting Goods Company, recently sent me one of their Adventure Bags and asked me to put it through some tough tests on my everyday adventures here in Abra.
Abra is an ideal environment to try out and test any outdoor equipment due to the high number of different outdoor activities that abound in the Province. From mountain climbing, and chasing waterfalls to traditional fishing, hiking and Kayaking. Abra has it all.
The dry bags come in various sizes – 2L, 5L, 10L and a 30L backpack. They are made of a tough, durable, IPX5 rated tarpaulin material, and are easy to clean and fold away when not in use.
This makes the Hull and Stern Adventure bag ideal for most kinds of water activities and any outdoor events where your valuables and electronics may be exposed to water or moisture. Should the Adventure bag fall in water it will float thus making it quite easy to retrieve.
So how did it fare in my trials? Read On …………. 
Hull and Stern Adventure bag – Test #1
The first outing was a hike to Barangay Malabagga where I had been invited to visit an Asar (a fish trap constructed from bamboo). The hike involved a couple of waist deep river crossings, with no real danger of the bag getting wet, unless i slipped. So the test here was for "comfort" and "ease of use.
Once i had adjusted the straps the bag felt very comfortable to wear as a backpack. It was easy to take off when i needed my camera to take photos half way across the river. I just hooked one strap over my head to support the bag while shooting, until the camera returned to its safe place and the bag to my back.
On the return hike,I tried wearing the Hull and Stern Adventure bag on my chest. Again it was comfortable, didn't feel out of place and was easy to access when i needed some gear from inside.
Test #1 – Passed ♥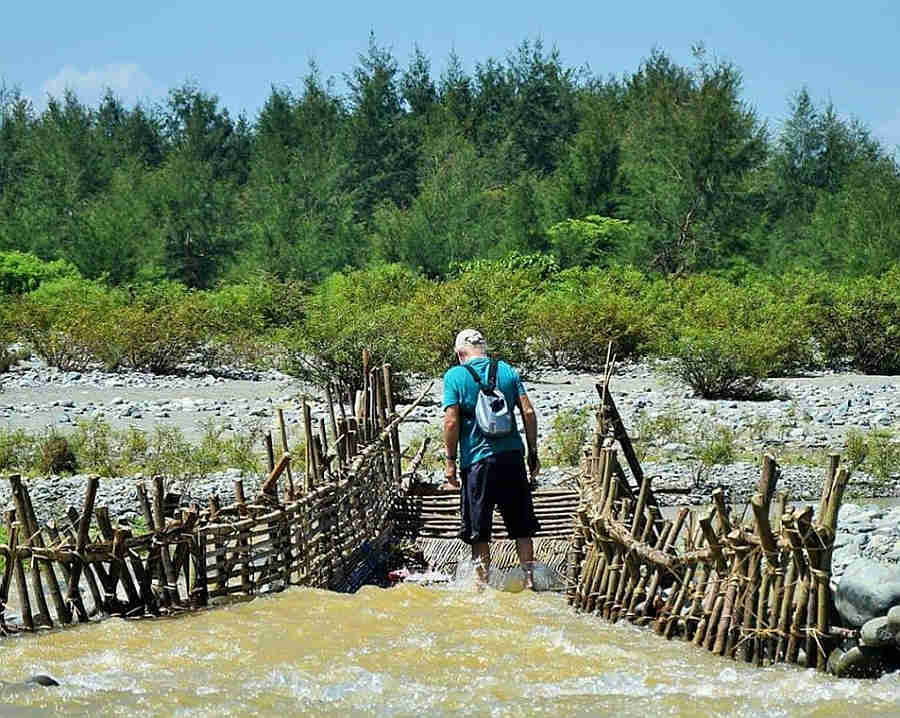 Hull and Stern Adventure bag – Test #2
For the next test I travelled to Lablabinag, a small sitio (hamlet) nestling at the side of the Binongan River in Lacub, Abra, and home to the Sinublan Falls. Its only a short twenty minute trek to the falls from the sitio.
The cascade is on the other side of the basin and the only way to reach it is to swim. After placing my camera and mobile in my Hull and Stern Adventure bag, closing it and quickly testing for any air leakages, and wearing as a backpack, I jumped into the cool, clear water.
Since the bag still had lots of air in it, I felt it act as a buoyancy aid holding me afloat on top of the water, which meant that I could swim effortlessly to the other side of the basin.
On reaching the base of the cascade i climbed out of the water, found a good foothold on the rocks and opened the bag. I was pleased to find that it was still dry inside and no water had managed to leak into the interior.
Taking my camera and mobile out, i took some photos of the pool and people now opposite me,placed the gear back into the bag, closed it and placed it on the water letting it drift wherever it wanted to. The Adventure bag drifted around happily. The interior was still dry on checking.
Test #2 – Passed ♥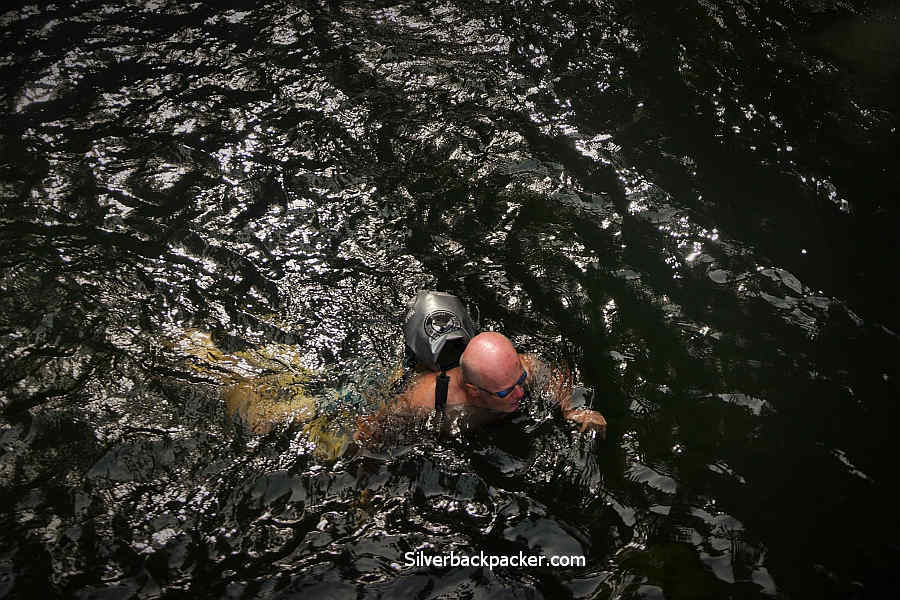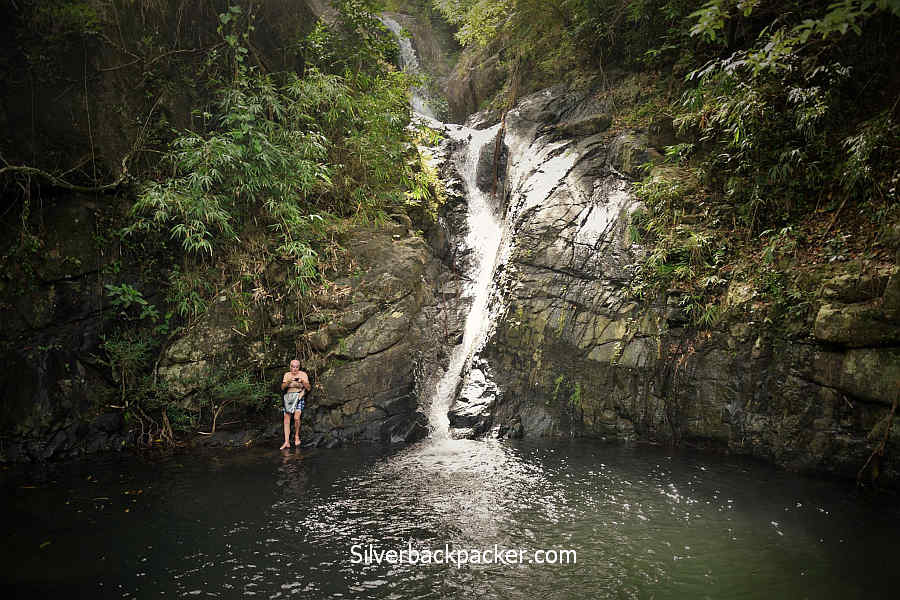 Hull and Stern Adventure bag – Test #3
Now for the Ultimate test. How would my Hull and Stern adventure bag stand up to some really rough handling and possible full immersion during a five hour Kayaking run down the Abra River from Don Marianos Bridge in Dolores to San Quintin.
When Kayaking there are two possible places to place your dry bag. The first is obviously to carry it on your back and the second is to stash it between your legs in front of you. I tested both scenarios during the run down river.
Let's start with the former. Placing the bag infront allows for quick easy access incase you need to use your camera instead of the GoPro for some reason. Usually on a quiet stretch of water it's safe to do so. Once you notice the frame you would like to capture, it's then a race against time to reach for the camera, operate it, shoot and replace back in the dry bag, whilst keeping a watchful eye on what lies ahead as you continue to float uncontrolled downstream.
If a set of rapids suddenly appear, then you need to be able to turn the camera off, replace in the bag, close it properly,replace between your legs, and start paddling in the shortest time possible. I was happy to find out that my Hull and Stern Adventure dry bag proved cooperative and resilient enough at these times.
Descending the Gaddani Rapids with my Hull and Stern Adventure bag stashed between my legs,  I misjudged the line i was taking just after the ninety degree right hand turn and capsized when my kayak found the edge of an underwater boulder. My kayak turned over which caused water to flood into the hull. Now came the totally unplanned total immersion scenario test !!!!
As i floated down stream in my lifejacket and holding onto the kayak I handed my paddle to a team-mate and tried unsuccessfully to locate the dry bag in the hull. I thought that maybe it had escaped and was floating away downstream but no one could see it.
After twenty minutes, we managed to beach the kayak on the river bank. On draining the hull, the Adventure bag appeared having been forced by the rush of water into the kayak's bow. I was absolutely amazed that it had survived being submerged for so long and still held its own in face of adversity.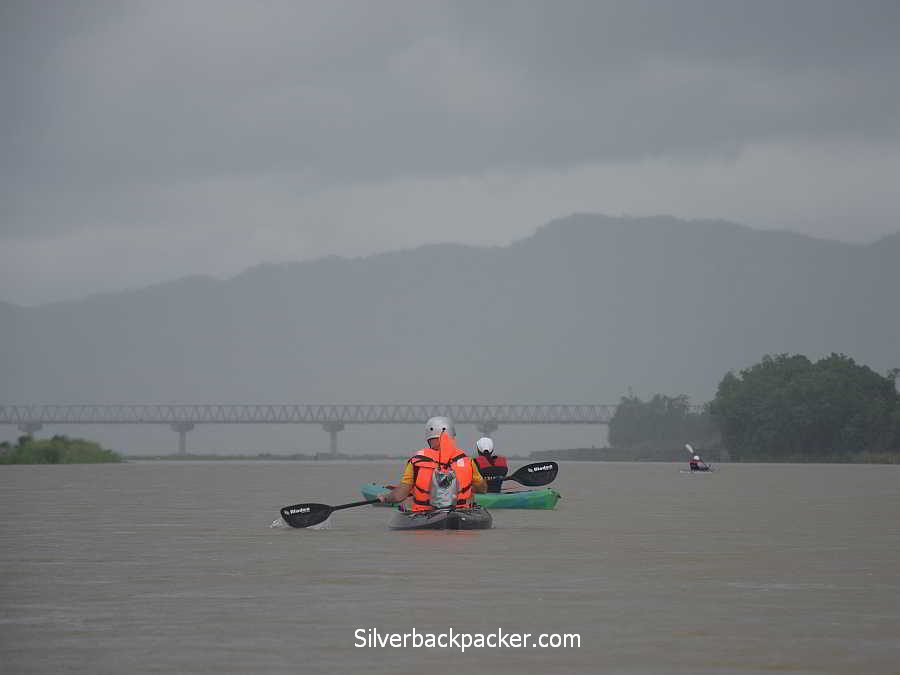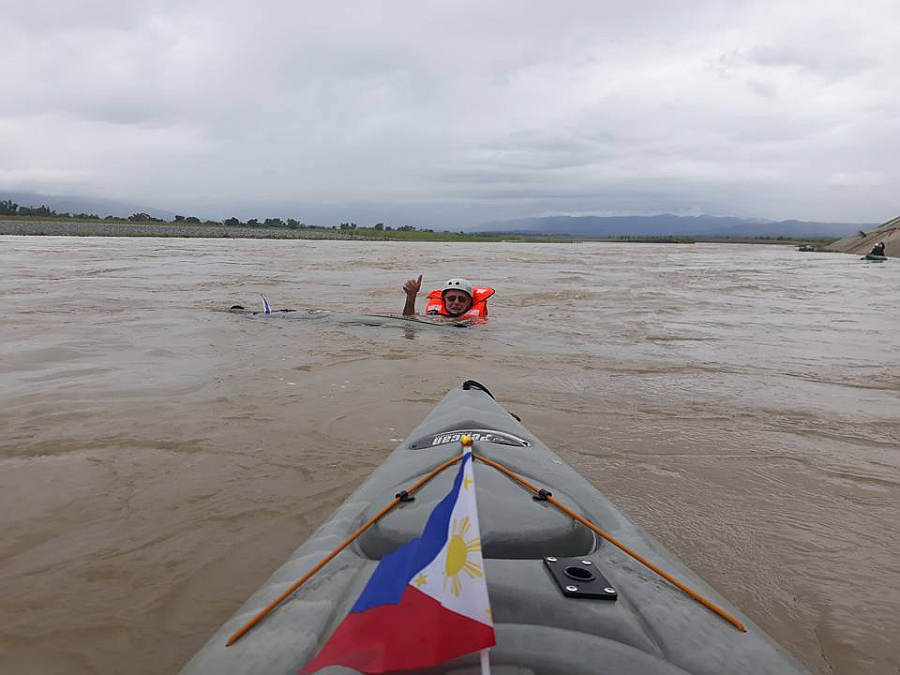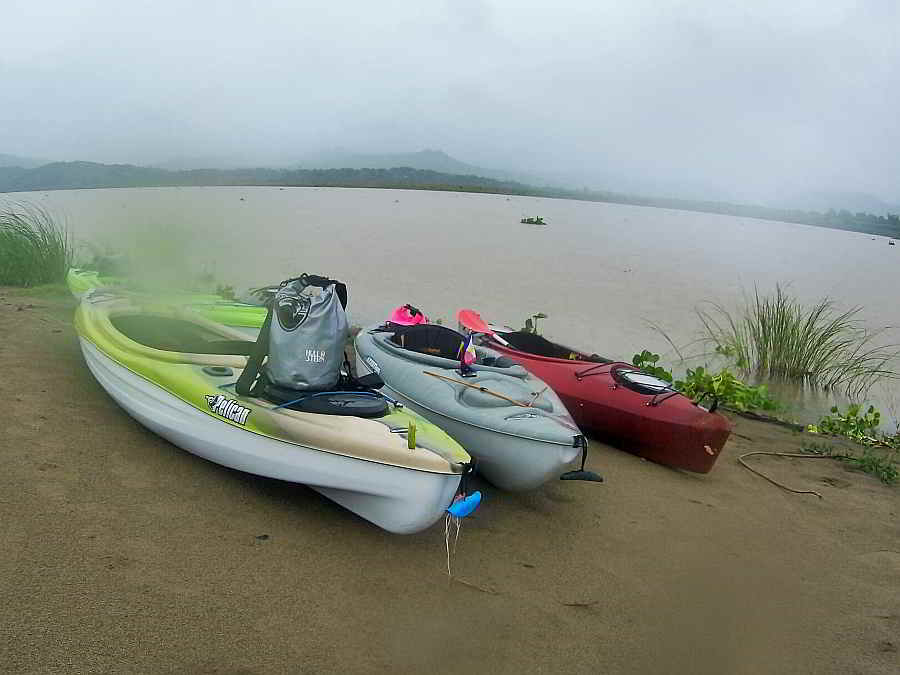 After that little mishap, I decided to try out kayaking using the dry bag as a backpack. This proved difficult for a couple of reasons,
Firstly the straps needed adjusting as to include my lifevest. This was a slow process as there isn't a fast release catch on the straps. I hadn't really needed it before but i can now see how it would be beneficial if incorporated into the design.
Secondly access to the cameras whilst paddling was exceptionally difficult, which i expected anyway, but wanted to test out.
Test #3 Passed ♥
A few days later I went for a walk in the heavy monsoon rains and again noticed that the adventure bag needed adjusting to suit my rainwear. It was a slowish process again due to the lack of a fast release catch on the straps. Hopefully this will be in an updated version,as I am sure it will benefit users alot.
Hull & Stern Adventure bag – Summary
As you may have noticed, I am not a beach person. I like adventure, and exploration. That means any gear i buy must be able to stand the test of time and many mishaps along the way. It needs to be durable, versatile and easily managed. All this i found in the Hull and Stern Adventure bag (except for the small matter of the quick release catch on the straps)
The Hull and Stern Adventure bag, in my opinion, is an essential item to add to your travel gear, especially if you are involved in any kind of water based activities, such as chasing waterfalls, kayaking, spelunking or hiking in any weather – The Hull & Stern Adventure Dry Bag is undoubtedly one of the best on the market.
How to close a Hull and Stern Adventure Bag
After placing your gadgets in the bag, squeeze out as much air as possible, then fold the bag opening over the stiff edge at least three times. Bend the fold to close the two clasps.
The Hull & Stern Adventure bag should now be waterproof.
Hull & Stern Adventure Dry Bag
#abrariverkayaking
Where to Buy a Hull and Stern Adventure Bag
Browse their website shop and order online or buy at these outlets
Lazada
Retail Lab, Glorietta Mall, Makati
Wander Space, Maginhawa, Quezon City 
Nothing But H20, Boracay Island
Hull & Stern Links and Contact details
Website – hullstern.com
Facebook – Hull & Stern
Instagram – Hull.Stern
Email – hello@hullstern.com
***Disclaimer:- I was not financially compensated for this post. I received a Hull & Stern adventure bag for review purposes. The opinions are completely my own based on my experience.*