TOP SEVEN THINGS TO DO IN LUBA, ABRA
Luba in the Province of Abra is slowly making its way onto the Philippine tourism scene. After years of isolation, exciting new destinations and attractions are being found and noticed. 
Even though the area is still lacking good infrastructure, travellers and tourists alike are making their way there to find out what the noise is about. Waterfalls such as Boni Falls, which the locals took for granted all the years, and its seemingly never ending ascending levels are being admired for their raw beauty. Caves, mountains, and forests are waiting to be explored. 
Yes, its not that easy to reach Luba but its worth the effort as i discovered when I recently spent a few days there checking the place out and finding things to do in Luba. Here are my top 7 suggestions for you. 
CHILL BY BANAAW LAKE
The Jewel of Luba
A natural spring at the top of a mountain. Hike up to this emerald green lake and enjoy a spot of fishing, rafting, swimming or just chilling in a hammock between two coconut palms.
The lake makes the ideal setting for a picnic with family or friends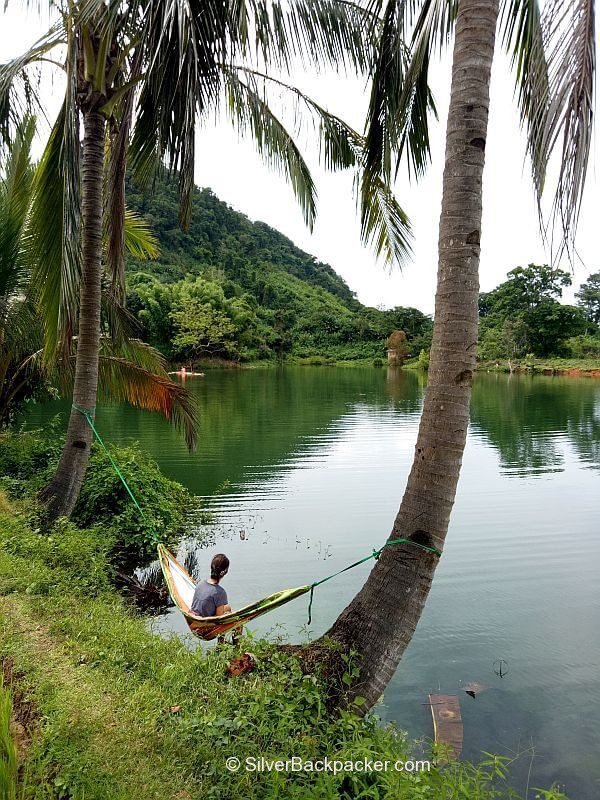 GO UNDERGROUND IN CAUNGUGAN CAVE
This cave is an hours easy hike from the jump off point. There are a few chambers to explore and one of them has a natural underground lake to swim in, at the end of which is a mini "Kaparkan Falls"
Along the way you will see rock formations, stalagmites and stalactites.
There will be a picnic area outside the cave soon.
CROSS THE LONGEST FOOTBRIDGE
Linking Barangay Poblacion with Barangay Sabnangan, the 560 metre long hanging bridge spanning the Abra River is the longest in the Philippines and SE Asia.
Started in 1988 and finished four years later in 2002 the Sen.Flavier Suspension Footbridge makes life alot easier for the community.
Walk across and enjoy the views up and down stream. Watch the bamboo raft crossing back and forth across the river below, or take the footpath down to the river for a panoramic view of the structure.
To reach the bridge take the footpath behind the Police Station which goes down to the river.
WANDER THE PINE FOREST
Enjoy some fresh, cool air in the Pine Forest of Sitio Botot. From here there are awesome views over to Sta.Maria and the coastline of Ilocos Sur.
This is also a good place to camp if you want to spend a couple of days hiking in the area, or spelunking in the nearby Caungugan Cave.
CLIMB BONI FALLS
Boni Falls is just a short walk from Poblacion. There is something here for everyone. You can choose to stay at the bottom levels or be more adventurous and climb up to the higher levels.
There are meant to be more than fifteen levels with pools and falls, and not one is the same. Test your endurance skills as you boulder, rappel, and climb the multi levels of Boni Falls.
It is advisable to take a guide if you decide to try and reach the upper levels.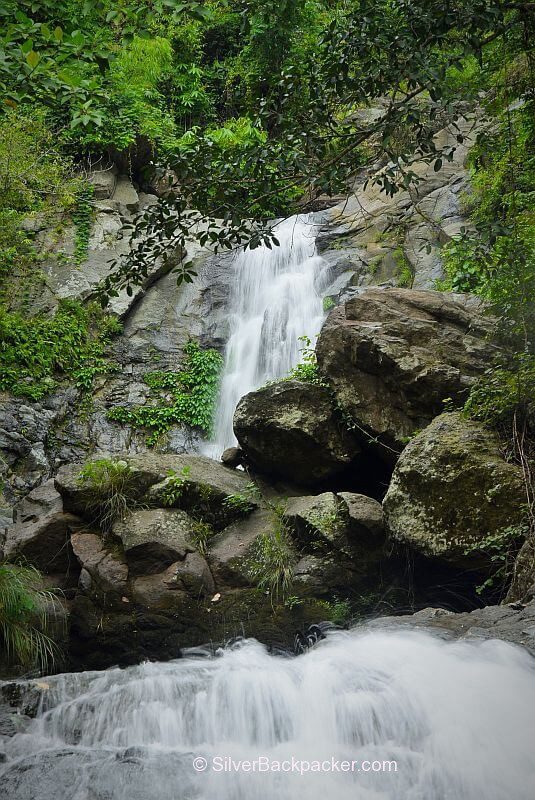 VISIT THE CHURCH
Our Lady of Perpetual Help Church in Luba was originally a wooden church. Started in 1941 the building was delayed by WW2 and was only finished in 1956.
The modern concrete church you see there today was inaugurated on 26th June 2004 and took three years to build.
Luba became a Parish in 1956 and has had a total of 22 priests in that time.
Next door to the church is the old convent,now part of the Catholic School
EXPERIENCE A BAMBOO RAFT RIVER CROSSING
Experience riding across the Abra River on a bamboo raft. This is the traditional way to cross rivers before the bridges were built. Once you are on the raft relax,sit back and enjoy the ride on this non-motorised raft powered by the skill of the boatman.
The bamboo raft also carries motorbikes, as well as passengers across the river.
Just ask any tricycle driver to take you to Mabi, where the raft is situated. The tricycle fare is P10.
The bamboo raft is a free service run by the LGU but please leave a small donation for the boatman.
Where to Eat in Luba
The best place to eat when in Luba is the "John Mayer Food House and Pansitan" run by Wina. Food is freshly cooked to order only.
For more information and to order your meals contact Wina by mobile or Facebook and let her know your ETA in Luba
Mobile – 09359 326 445
Facebook – Nino Eduarde
Contact Details for Luba Tourism
For more information on these activities, hiring guides, accommodation and any other questions about Luba please contact the Tourism Officer
Roxanne Anselmo-Biscarra
Mobile –  09054049040
Email – [email protected]
Facebook – [email protected]
Essential Travel Guides
Top Things to do in Luba
Abra
Philippines
How to travel to Abra from Manila
By Bus
From Metro Manila, there are three bus companies operating along the Manila to Bangued route.




Partas Bus Company, Viron Transit and Dominion Bus Lines.

Journey time is around 10 hours

Fare at time of writing is P600
Bus Companies that link Bangued with other destinations are 
Bangued to Manila, Baguio – Partas Bus Company
Bangued to Manila, Baguio – Dominion Bus Lines
Bangued to Manila, Baguio – Philippine Rabbit
Bangued to Baguio – Sambrano Bus Lines
Bangued to Manila – Viron Transit
Bangued to Vigan, Tuguegarao – Esonice Bus Lines
Bangued to Baguio, Vigan, Laoag – BBL Transit
By Air
There are no airports in Abra.
Cebu Pacific has daily flights to Laoag.

From Laoag take a bus to Vigan and change there for a bus to Bangued
Jeepney from Bangued to Luba
Once you arrive in Bangued, take a tricycle to the jeepney terminal near Tubo House in Zone 5.
Jeepneys leave for Luba twice a day at 08.30 and 14.00. 
The trip takes around 3 hours and the fare is P120.
The 08.30 Jeepney continues on to Tubo after passing through Luba
 By Car or Motorbike
Leave Bangued on the road to Bucay. Drive through Bucay to Manabo and across the Manabo Bridge. Keep going until you come to the river where a Free ferry will take you across to the otherside. (Donations for the ferry crew are accepted)
Once across, follow the road  until you reach a junction. Take the left hand road to Luba.
BANAAW LAKE - THE JEWEL OF LUBA
#ABRAMAZING